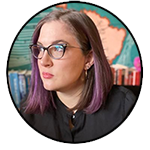 Hello! I'm Amy-Elizabeth.
I live in Atlanta, GA with where I work as a high school world history teacher.
I also create digital content dedicated to World History that is global in scope and centers the people of global majority. My work specifically challenges white supremacist and Eurocentric historical narratives. I am always looking to collaborate with like-minded individuals on projects.
Just send me an email - amy.manlapas AT gmail.com
Note: My content and subsequent posts do not reflect the views of anyone but myself. Content that has been liked, reposted, or otherwise shared does not necessarily represent the views of myself or my employer.